Weather Shield for Single Swivel Wheel - InStep 25-SA065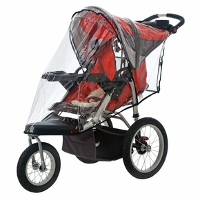 Click to enlarge image(s)
Weather Shield for Single Swivel Wheel
Jogging Stollers
InStep 25-SA065
The Weather Shield for Single Swivel Wheel - InStep 25-SA065 will keep your child warm and dry and protect your child in the rain and snow.
The weather shield installs quickly on the jogging stroller, so when the weather changes, you will be ready in a instant.
The rain shield has multiple vents that keep the air flowing and keeps your child comfortable inside the jogger.
Purchase a weather shield for your swivel wheel jogging stroller and be prepared for any weather.
Single swivel wheel jogging stroller not included.
Fits Instep swivel wheel single jogging strollers and Schwinn single swivel wheel jogging strollers.
Also Take a Look At Our
Swivel Wheel Single Jogging Strollers
All Baby Stroller City Products