Instep Safari 11-AR290 - Swivel Wheel Jogging Stroller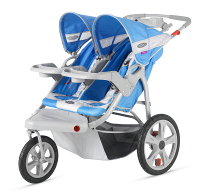 Click to enlarge image(s)

InStep Safari 11-AR290
Swivel Wheel Jogging Stroller
The InStep Safari 11-AR290 jogging stroller swivel wheel is one great double jogging stroller.

The canopies are separate for each individual passenger compartment, so you can adjust just how much sun each occupant receives.

Each seat also has a molded beverage holder tray that easily pivots out of the way for easy access.
InStep Safari 11-AR290

Double Jogging Stroller

With the twelve (12) inch front swivel wheel, the InStep Safari is easy to maneuver even in the busiest of places. It has a "Zero Degree" turning radius and it is a breeze to operate.

The sixteen (16) inch air filled tires make the Safari easier to push than other baby strollers and also makes the ride a lot less bumpy for your child.


Detachable Tires

The tires come right off with the click of a button so that you can easily fold it up and put it away in your car between destinations.



Swivel Wheel Jogging Stroller
VS
Fixed Wheel Running Stroller


Fixed Wheel Running StrollerWhich one is the best jogging stroller?

It doesn't really matter because the InStep Safari 11-AR290 is both.

Yes, with just the flip of a lever, you can convert this swivel wheel jogging stroller into a fixed wheel double jogging stroller.

With this jogging stroller you get a great design and lots of usage.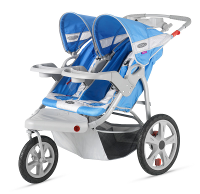 The InStep Safari 11-AR290 Swivel Wheel Jogging Stroller.
OTHER SAFARI DOUBLE MODELS
| | |
| --- | --- |
| Model | 11-AR290 |
| Color | Cobalt with Gray |
| Weight | 41.9 Pounds |
| Product Diminsions Folded | 28.4" x 16" x 35.4" |
| Assembled Diminsions | 49" x 32.25" x 40" |
| | |
| --- | --- |
| 12 inch Front Pneumatic Tire | Easy to Maneuver and Zero Turn Radius |
| 16 inch Big Rear Pneumatic Tires | Smoothest Ride for your Child |
| Molded Rims | Nice looking and Better Performance |
| Manual Locking Front Tire | Switch from Swivel Wheel to Fixed Wheel |
| Molded Chilld Fiip Tray | Allows Easy Access |
| Invidual Floating Canopies | Keeps your Passengers at Individual Comfort Levels |
| Large Storage Capacity | Take the Necessities with You |