Instep Safari 11-AR190 - Swivel Wheel Jogging Stroller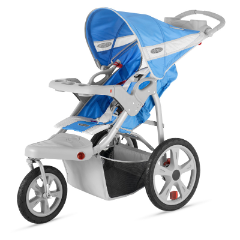 Click to enlarge image(s)


InStep Safari 11-AR190
Single Jogging Stroller



The InStep Safari 11-AR190 single jogging stroller has big sixteen (16) inch pneumatic (air filled) tires that give it a very smooth and comfortable ride for your precious cargo.

The twelve (12) inch swivel wheel on the front of the Safari has a zero degree turning radius that allows it to pivot on a dime.

Being able to maneuver very easily through shopping malls and crowds is what give the InStep Safari swivel wheel jogger its reputation as one of the best jogging strollers available.



Making it Safe
The InStep Safari 11-AR190


You can trust the Safari not to fold up while in use because it has a double locking mechanism, that when locked in place, make it impossible.

Race car drives like to be safe, that is why they use a five (5) point safety harness to keep them strapped in place at very high speeds.

Well the InStep Safari 11-AR190 has a system much like the race car drivers use, making this one of the best jogging strollers on the market, as well as one of the safest.

The harness straps are adjustable and they just click into place much like a seat belt.

If you are going to park your stroller while visiting with friends or grabbing a bite to eat, you will be happy to know that it will not go anywhere with the double braking system. Just click them on with your toe.



The InStep Safari 11-AR190

Has Lots of Extras

One thing that you will especially love about this model and that makes it one of the best jogging strollers available is that with just a flip of a button, you can turn it into a running stroller. Just lock the front wheel in place and you're ready to go.

You can use most brands of car seats with the Safari because we have a car seat adapter that comes with the stroller.

There is a double drink tray that flips up out of the way to allow you easy access to your child.

On a hot day, you can pull out the canopy and provide plenty of shade for your little one.

The molded rims that the pneumatic tires are mounted on are very durable and lessen the overall weight of this jogger.

With a flip of a button, the tires come right off so that you can take them off, fold up your stroller and easily place it in your car.

You can take all the essentials with you for a day in the park because the Safari has a huge compartment under the seat for storage.

So how will you use the InStep Safari the most? As a swivel wheel stroller, or a fixed wheel running stroller?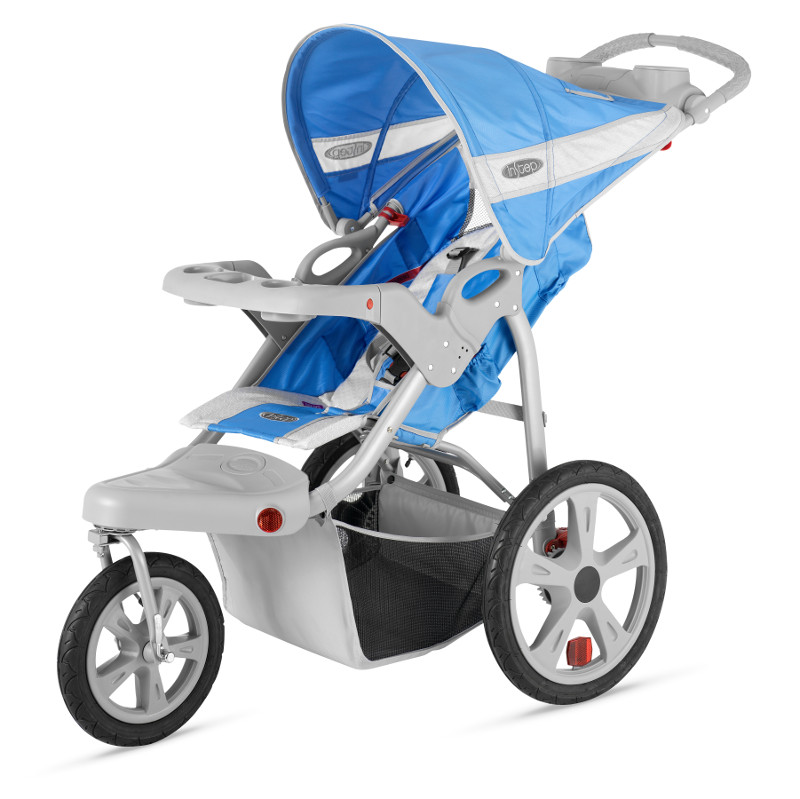 .


The InStep Safari 11-AR190 swivel wheel jogging stroller is like getting two strollers for one low price.



| | |
| --- | --- |
| Model | 11-AR190 |
| Color | Cobalt with Gray |
| Weight | 35.7 |
| Product Diminsions Folded | 19.7" x 14.5" x 35.8" |
| Assembled Diminsions | 52" x 22.5" x 42.2" |
| | |
| --- | --- |
| 12 inch Front Pneumatic Tire | Easy to Maneuver and Zero Turn Radius |
| 16 inch Big Rear Pneumatic Tires | Smoothest Ride for your Child |
| Molded Rims | Nice looking and Better Performance |
| Car Seat Adapter | Adapts to Many Car Seat Brands |
| Remote Locking Front Wheel | Convert to a Fixed Wheel Jogging Stroller |
| Swivel molded Flip Open Beverage Tray | Moves out of the way for easy access |