Instep Rocket Bike Trailer 12-MK555



Click to enlarge image(s)

InStep Rocket
Bike Trailer 12-MK555


InStep Rocket as a Bike Trailer


The InStep Rocket Bike Trailer 12-MK555 is a one of a kind. There are lots of features that make this bike trailer a favorite and it is moderately priced.

The frame on the InStep Rocket is made with lightweight aluminum that makes it very lightweight yet very durable and dependable.

The rims are even aluminum to cut down on weight but it also makes the trailer look very, very stylish.

The tires on the Rocket Trailer are "Huge" twenty inch tires that make it very easy to pull behind your bicycle or easy to push when in jogging stroller mode.

The tires have a quick release feature that allows them to be removed fast and easily for packing the trailer away for your trip.

The InStep Rocket trailer also comes with a trailer coupler that attaches it to most bicycles.




InStep Rocket Bike Trailer 12-MK555
Converts into a Jogging
Stroller

This trailer also converts into a jogging stroller. Just attach the wheels and the handle bar and it instantly becomes a jogger stroller.

The handle bar is included with the InStep Rocket Trailer and so are two (2) front wheels that convert it into a dual front wheel jogging stroller.

This bike trailer jogging stroller combination has deluxe seat construction for extra comfort.




Trailer Stroller Combo
InStep Rocket Bike Trailer 12-MK555

InStep Rocket bike trailer 12-MK555 is like having two products for one great price.

Also included with this bike trailer along with the trailer coupler, handle bars and dual front swivel wheels are the bug screen and weather shield.

The bug screen is a mesh that keeps out those pesky insects and the weather shield will protect your little ones from even the worst weather.

With all these features that are standard, the price is just unbelievable. This bike trailer also is compliant with ASTM safety standards F1975 and F833.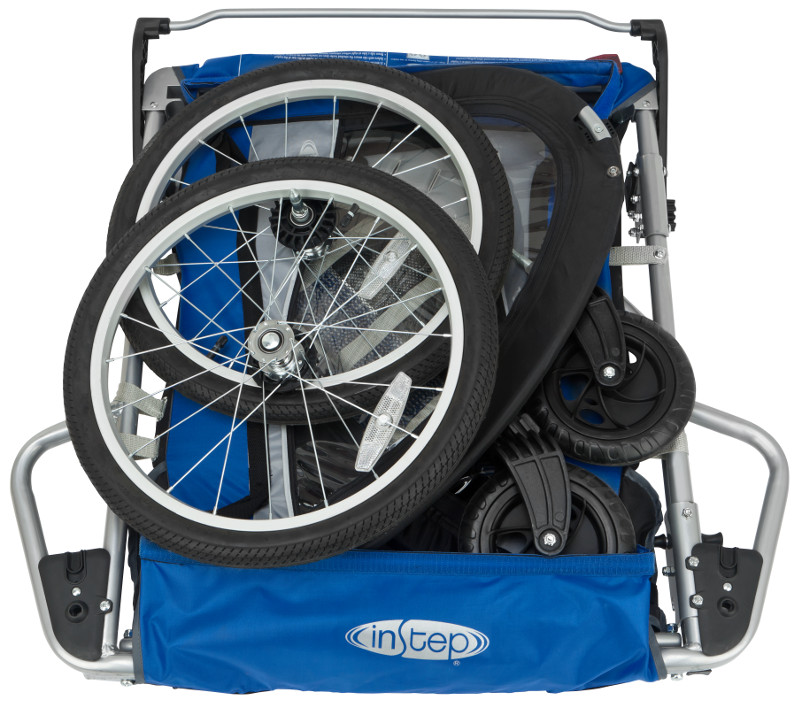 A lot of standard features with just one low price make the InStep Rocket Bike Trailer 12-MK555 one of the best bicycle trailers on the market.
| | |
| --- | --- |
| Model | 12-MK555 |
| Color | Blue with Gray |
| | |
| --- | --- |
| Large Twenty (20) INCH Rear Wheels | Maximum Pulling Effeciency |
| Quick Release Tires | Allows for easy storage and on the run compacibility. |
| Aluminum Rims | Sleek looking and lightweight |
| Lightweight Aluminum Frame Constrution | Lightweight and very durable |
| Double Front Wheel Stroller Kit | Converts into a Jogging Stroller |
| Stroller Conversion Kit Handle Bars | Doubles as a Jogging Stroller |
| Bug Screen | Included so You Passenger is Protecte from Pesky Bugs |
| Weather Shield | Included so that You are Always Ready for the Elements |
| Stroller Conversion Kit | Included |
| Deluxe Seat Construction | Added Comfort |
| Universal Trailer Coupler | Fits most Bicycles with Ease |
| Fully Compliant for Safety | ASTM F1975 and F833 |