InStep Grand Safari 11-AR293 - Swivel Wheel Jogging Stroller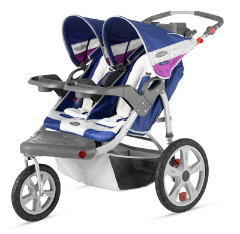 Click to enlarge image(s)



InStep Grand Safari 11-AR293
Swivel Wheel Jogging Stroller



The InStep Grand Safari 11-AR293 is very easily through crowded shopping malls, with a twelve (12) inch swivel wheel on the front of the Grand Safari that allows it to pivot on a dime. It has a zero degree turning radius.

The back tires are big. Large sixteen (16) inch, pneumatic (air filled) tires that gives it a very smooth and comfortable ride for your precious cargo.

The molded rims on the InStep Grand Safari swivel wheel jogging stroller are very durable and lessen the overall weight of this jogger.

The InStep Grand Safari swivel wheel jogger has a reputation. It is one of the best jogging strollers available.




Making it Safe


The InStep Grand Safari 11-AR293

The jogger cannot fold up while being used because it has a double locking mechanism that prevents that.

But with a thumb button on each side, it is very easy to disengage the locks when you are ready to fold it up.

A deluxe five (5) point harness system, on the Grand Safari secures the passenger. It is adjustable and very easy to click together.

When you are ready to stop for a while, just depress the brake pedal on each back tire with your foot and the stroller will not roll away.

The parking brake system is nice and you will enjoy being able to use it.



The InStep Grand Safari 11-AR293

Has Lots of Extras

A feature that allows you to take the tire off quickly, so that you can fold the jogging stroller up for storage, is a very nice feature.

The quick release feature makes this one of the best jogging strollers around.

A car seat adapter bar lets you use most brands of care seats with your jogging stroller.

Adjust the canopy and you have an open air seat, or completely shaded. It's your choice.

A drink tray swings up and out of the way for easy access to the passenger compartment.

It is made from a molded plastic and has a place for two bottles.

Under the seat is a huge storage compartment. You can take everything with you but the kitchen sink.

With the ability to use this swivel wheel jogging stroller as a fixed wheel running stroller, it makes it one of the best jogging strollers for you to enjoy with your child.

You will get lots of use with this feature.

This allows you to lock the front wheel. With just the flip of a lever, you can turn it into a running stroller.

Making it one of the most versatile and best jogging strollers on the market for sale, the lever allows you to convert it from a swivel wheel jogging stroller into a running stroller.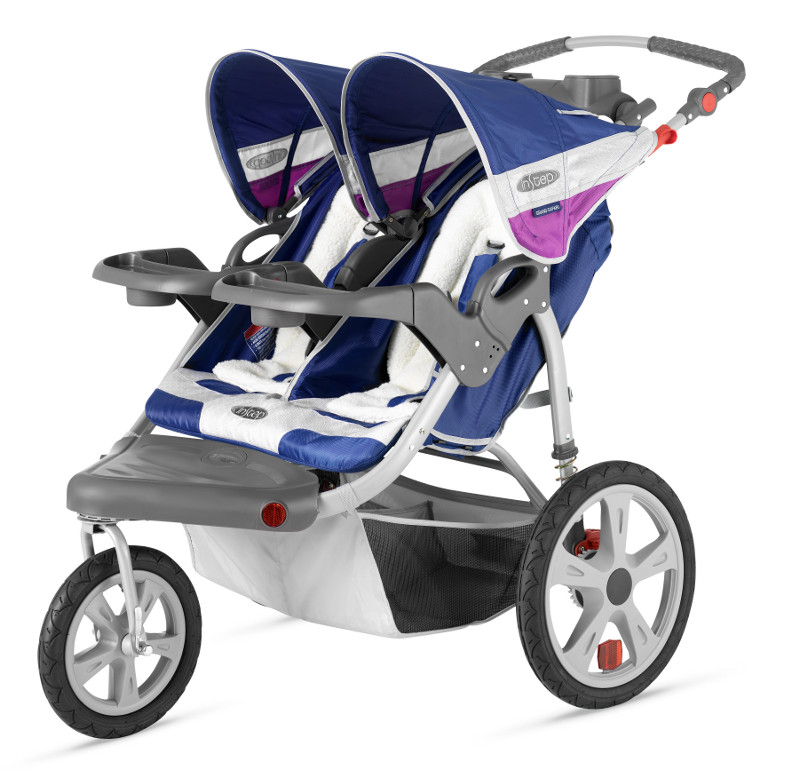 The InStep Grand Safari 11-AR293 Swivel Wheel Jogging Stroller
OTHER GRAND SAFARI DOUBLES
| | |
| --- | --- |
| Model | 11-AR292 |
| Color | Midnight with Grape |
| Weight | 42.6 Pounds |
| Product Diminsions Folded | 28.6" x 15.75" x 32" |
| Assembled Diminsions | 49" x 32.25" x 40" |
| | |
| --- | --- |
| Dual Locking Mechanism | Assures that the Stroller Cannot Fold up During Use |
| Removable Fleece Seat Pad | Machine Washable |
| 16 inch Big Rear Pneumatic Tires | Big Tires for Excellent Maneuverability and Air Filled Tires for a Cushioned Ride |
| Remote Locking Front Wheel | Converts Jogging Stroller from Swivel Wheel to Fixed Wheel |
| 12 inch Front Tire | Easy Maneuverability and Zero Turn Radius |
| Molded Chilld Fiip Tray | Dual Cup Holders Easy In and Out |
| Adjustable Handle Bar | Easier for Multiple User Height Positions |
| Molded Rims | Look Great and Are Very Durable |
| Foot Pedal Parking Brakes | Keeps the Stroller from Rolling While Parked |
| Canopy Mounted Speaker | Accepts most MP3 players |
| Spring Shock Absorbers | Smoothest Ride for your Child |