Instep Grand Safari 11-AR193 - Swivel Wheel Jogging Stroller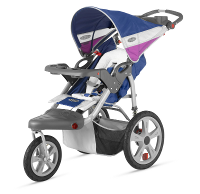 Click to enlarge image(s)


InStep Grand Safari 11-AR193
Swivel Wheel Jogging Stroller

The Smooth Riding Jogging Stroller

With the InStep Grand Safari 11-AR193 swivel wheel jogging strollers, you will always have a very smooth ride due to the exposed spring shock absorbing system.

This makes even the toughest path smooth and maintains a comfortable ride for the very precious cargo that you are transporting.

It has air filled (pneumatic) tires that are big. Sixteen (16) inch rear tires that make it ride very smoothly and comfortably for your precious cargo.

The swivel wheel on the front of the Grand Safari is twelve (12) inches in diameter and also helps it get around nicely.

The "zero degree" turning radius makes it very easy to get around in a busy mall or other places where there is not much room.

The InStep Safari swivel wheel jogger its reputation as one of the best jogging strollers available.

Some great features of the InStep Grand Safari:

An MP3 speaker is mounted in the canopy to play music for your passenger
If you are short or tall, it doesn't matter with the adjustable handle bar
The rims for the tires are molded and look very stylish
The tray for the infant has two drink holders and rotates out of the way for easy access
A seat cushion made of fleece is removable and can be washed in the washing machine
Most brands of car seats can also be used with the adapter for a car seat
A Safe Jogger Stroller

The InStep Grand Safari is the Best Jogging Stroller

The redundant built in locking mechanism ensures that the jogging stroller cannot fold up while it is being used.

Your infant is strapped in place in a five (5) point adjustable safety harness for safety and it is easy to snap in place.

It latches kind of like a safety belt in a car. Much like the NASCAR drivers use.

The Instep Grand Safari 11-AR193 is one of the best swivel wheel jogging strollers available today.

With the touch of a toe you can activate the dual parking braking system.


The Instep Grand Safari 11-AR193

Something Very Special

The Grand Safari has a lot of under seat storage so you can take what you need with you.

The quick release system allows you to very easily take off the tires. That way you can take them off, fold up the jogging stroller, and place it in the car.

The Instep Grand Safari 11-AR193 jogging stroller with a swivel wheel easily converts into a fixed wheel jogging stroller. Just flip the button and presto, you are in fixed wheel mode for use as a running stroller.

The remote front wheel locking lever makes it really nice to be able to switch back and forth from a fixed wheel running stroller, and back to a swivel wheel jogger.

The multifunctional uses makes the Grand Safari by InStep one of the best jogging strollers ever.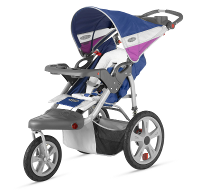 The Instep Grand Safari 11-AR193 swivel wheel jogging stroller, can also be used as a fixed wheel jogging stroller
OTHER GRAND SAFARI MODELS
| | |
| --- | --- |
| Model | 11-AR193 |
| Color | Midnight with Grape |
| Weight | 37.5 pounds |
| Product Diminsions Folded | 19.7" x 14.5" x 32" |
| Assembled Diminsions | 52" x 22.5 x 42.2" |
| | |
| --- | --- |
| 12 inch Front Pneumatic Tire | Easy to Maneuver and Zero Turn Radius |
| 16 inch Big Rear Pneumatic Tires | Big Tires for Excellent Maneuverability and Air Filled Tires for a Cushioned Ride |
| Molded Rims | Elegant Style and Excellent Performance |
| Swivel molded Flip Open Beverage Tray | Carry Beverages to Stay Hydrated |
| Remote Locking Front Wheel | Easy to Switch from Swivel to Fixed Wheel Operation |
| Car Seat Adapter | Adapts to Many Car Seat Brands |
| Adjustable Handle | Allows for Multiple Users of Different Heights |
| Spring Shock Absorbtion System | Takes the Bumps out of the Ride |
| Canopy Mounted Speakers | For Use with Most MP3 players |
| Removable Fleece Seat Pad | Cushions ride and it is Machine Washable |