Bug Screen for Single Fixed Wheel - InStep 25-SA060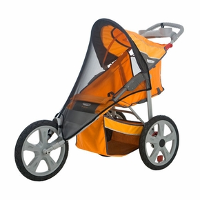 Click to enlarge image(s)
Bug Screen for Single Fixed Wheel
Jogging Strollers
InStep 25-SA060
The Bug Screen for Single Fixed Wheel - InStep 25-SA060 tinted net is made for the Instep fixed wheel single jogging stroller,
or the Schwinn single fixed wheel jogging stroller.
It protects your baby from those pesky insects while going for a ride.
The "breathable" netting also acts as additional shade to protect you baby from the sun.
Now you can spend even more time enjoying the outdoors, knowing your little one is protected by the bug screen netting.
Fixed Wheel Sinlge Jogging Stroller not included.
Also Take a Look At Our
Fixed Wheel Single Jogging Strollers
All Baby Stroller City Products